On this page you will find things that illustrate some of the fun aspects of science today.
High Voltage
Lichtenberg Figures combine high technology with the natural beauty of fractal geometry These are multi-million volt electrical discharges that have been permanently captured inside clear acrylic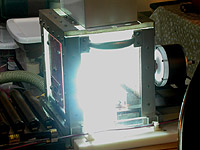 FIRE! The Money Shrinker is triggered remotely... you really don't want to be anywhere near the system when it fires. You can also see the highly conductive arc inside the trigatron switch (the cylindrical object to the right of the blast shield) as it switches over 100,000 amps into the work coil. The resulting magnetic field can erase nearby credit cards. And yes, it makes a BIG bang!
Here's the reverse side of a German 1 Euro coin before and after blasting it with 6,300 joules.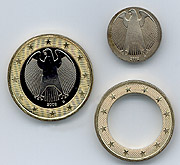 The outer ring shrinks to about 90% of its original diameter. However, the center portion shrinks even more, freeing it from the outer ring.

The Mendocino motor is a solar powered, magnetically levitated motor, this and the high voltage tesla experiments can be seen by Clicking here