The Trelan Bahow Mirror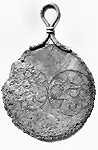 also known as
The St. Keverne Mirror


Cornwall, England
1st century BCE
Bronze
British Museum, London

Wikimedia - Keverne Mirror
This mirror carefully displays a side by side design of free circles. Due to the incision of the free circles on the left
side of the mirror, one may speculate the Trelan Bahow Mirror was made after the Mayer Mirror (Fox, 98).
Similar to other Celtic Bronze Mirrors, this mirror shows basketry hatching as the basis of all design. An outline separates the outside world from the decoration on the mirror back. This outline is nothing more than a pointed scalloped edge. Basketry hatching fills the triangles which point away from the center of the mirror, therefore, every other triangle is open.
The main part of the mirror consists of two elaborate, yet different, circles. In each circle, the artisan carefully included a variety of Celtic ornamentation. Three sided voids and matted shapes are common throughout these two circles. Matted shapes are merely shapes filled in with basketry hatching. All roundels in the Trelan Bahow Mirror are open roundels. Lobes, as well as trumpet shapes, are intertwined with the three sided voids and other matted shapes to create harmony within each circle.
For the most part, however, the Trelan Bahow Mirror is formed on the basis of the circle. In other words, the circle, in one way or another, incorporated itself into almost every shape. The handle on this mirror is a basis loop handle, exactly like the handle on the Mayer Mirror. A teardrop is formed at the top of the handle, thus allowing the mirror to hang easily on the wall. Due to the nature of the design, this mirror does not display metamorphosis nor trilliums.
As a result, no human face "magically" appears once the mirror is hung upon a wall.
---
More Information :
Diggens - Antiquities