History Society Links

Access to Archives
The A2A database contains catalogues describing archives held throughout England and dating from the 900s to the present day.

Genuki Home Page
-
Genuki St Keverne Page
Enter this large collection of genealogical information pages for England, Ireland, Scotland, Wales, the Channel Islands, and the Isle of Man.

Cornish - Surname Search
Many visitors to the mystical land of Cornwall are fascinated by the placenames and surnames. They have such magical, foreign sounding names. This should come as no surprise for visitors who know their British history, for Cornwall is a Celtic land, just as are Brittany, Wales, the Isle of Man, Ireland and Scotland.
Account of the SS Mohegan
From Wikipedia, the free encyclopedia - She neared the entrance of Falmouth Harbour and turned towards the entrance of the Helford River and on down The Lizard coast without slowing from 13 knots. This was noticed by the Coverack coastguard, which attempted to signal to her with warning rockets. The Mohegan either was unaware or took no notice, and maintained her course. James Hill, coxwain of the Porthoustock lifeboat saw the ship, lights ablaze, heading at full speed towards the Manacle Rocks. With a cry of 'She's coming right in!' he called his crew.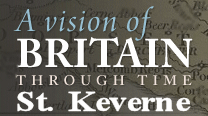 Vision of Britain through Time - St. Keverne
In 1870-72, John Marius Wilson's Imperial Gazetteer of England and Wales described St. Keverne like this:.....

Cornish Ancient Sites
A charitable partnership formed to look after the ancient sites and monuments of Cornwall.

Transcriptions Of The Original West Briton Newspaper, 1836 - 1887
Transcripts of Births, Marriages, and Deaths - as well as Fairs, Fishery reports, Court reports, separation notices, absconded apprentices, Coroner's Inquests, etc.,


Before you Go!
Please View -
Sign our Guest book
The St Keverne Local History Society's Guest Book