Cornish Coincidence
The Martin Family
I was born in the east end of London in 1946.  My parents were both Cockneys, hailing from Poplar (the location of TV series 'Call the Midwife').  In 1960, we migrated to Australia, settling in Myrtleford, Victoria.  Later, I moved to Melbourne to attend university.  My first teaching post was at Yallourn in the Latrobe Valley east of Melbourne, where I met my future wife, Merron.  She had been born in Geelong and lived in nearby Lara all of her life.
My family on my father's side originated from a small settlement in Cornwall called St. Keverne, not far from Land's End.   
Sometime in the 1800s, probably around 1850, Edward Martin (my second great grandfather) and his wife Elizabeth left St. Keverne and travelled to London.   He was an agricultural labourer and had probably been displaced from the land as a result of the Agricultural Revolution.  They settled in Poplar in the east end – where the factories and the cheap housing were located.  The conditions they must have lived in were horrendous, as illustrated by the excellent Michael Mosley reconstruction The Victorian slum, on TV in 2017.  
In 1856, my great-grandfather, also Edward, was born in Poplar.  In 1878, he married Eliza Lethbridge, who hailed from Plymouth in Devon and had probably also come to London for work.  Like many others in those terrible conditions, Edward's and Eliza's lives were short.  Both died in 1898, he of a heart attack at 42 and she, later in the year, of a cerebral haemorrhage, at 39.  Their son, my grandfather, died of a heart attack in 1926 at the age of 43.  
After Edward died, Eliza had to place one of their younger children in the Poplar Workhouse School.  She could not afford to provide for all of her children. Two others joined him when Eliza herself died shortly after.  My maternal great grandmother, Nancy Ann Flack, came from the same part of London and worked at the Bryant and May's factory in Bow, in the vicinity of Whitechapel and Poplar, in 1888, the year of Jack the Ripper.  My mother recalled the story she told her of what happened when the women left the factory in the dark at the end of the day.  They would form a chain, holding hands as they walked along the streets, so none of them was isolated and thus vulnerable.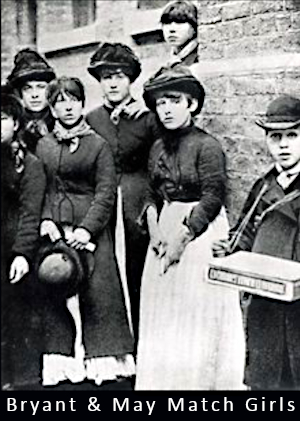 A significant labour history event also occurred at the factory earlier in the year.  The women went on strike for better pay and conditions - and an agreement not to use white phosphorous on the matches as it had caused medical problems among them.
They won..
the first strike by unorganised workers to gain national publicity.
One analysis suggests that the influence it had upon the minds of the workers entitles it to be regarded as one of the most important events in the history of labour organisation in any country.  In fact, the term
'strike'
, as used to describe industrial action, originated with the match girls. They decided to 'strike' a match against Bryant and May's!
My roots are well and truly in the labour movement!
So, while my paternal roots, both male and female, lay in the West Country, my recent heritage is decidedly Cockney.  
I discovered all this information while working through Family Tree Maker and Ancestry.  When I had gathered and recorded all the information I could, I turned to Merron's family tree.  
With hers, I moved back in time as far as 1740 and her fourth great-grandparents.  When I checked the woman's record, it indicated that she was born in  .  .  .  St Keverne!    
  I did a double take....  
I asked myself if I had inadvertently slipped back into my own family tree.  But, no!   Jane Trerise and her husband, John Pearce, Merron's fourth great-grandparents, had both been born and died in St. Keverne. Their son, also John Pearce, had been born and died there as well.  I checked back in the parish records (fortunately online) and found that, between 1750 and 1850, there were seven marriages in the village between people who had surnames associated with our family trees.  So, Merron and I may actually be very distantly related.   
I find this incredible.  A migrant from the east end of London, whose paternal roots go back to a village in distant Cornwall, emigrates to Australia, lives in Myrtleford, goes to work in Yallourn, meets an Australian girl from Lara and marries her, neither knowing, of course, that their roots go back to that same distant village.  
What are the odds??  Was there a preordained attraction?  The mind boggles.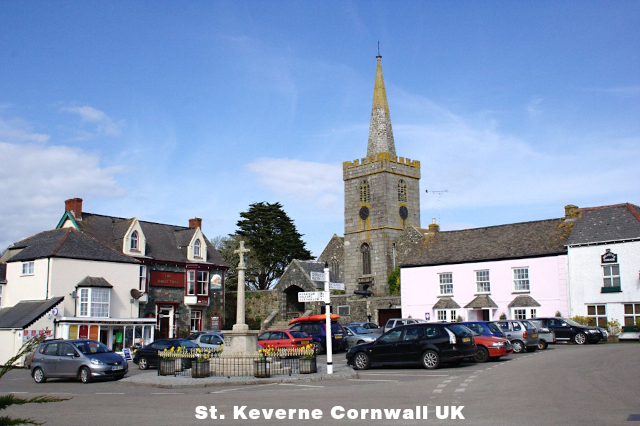 Postscript:
  John Pearce's son, John Lilley Pearce, emigrated to Australia and married a woman named Elizabeth Cullen.  She was the daughter of James Bryan Cullen, a First Fleet convict who was one of the first sent to Norfolk Island, in 1790.  When that first colony there closed down for economic reasons in 1807, he and his family (he had settled there after emancipation, taken up with an Irish convict by the name of Elizabeth Bartlett, had a family and taken land grants) and all the other settlers on the island were transported to Tasmania and given land grants just outside Hobart.  Because of their origin, the settlers' new home was called New Norfolk.  
John Lilley's and Elizabeth's son, James, travelled across to the Port Phillip District sometime after 1835 and probably established a run in the western part of the colony.  He married an Irish girl and they stayed in western Victoria.  Later, some of their descendants moved to the Geelong area – hence Lara.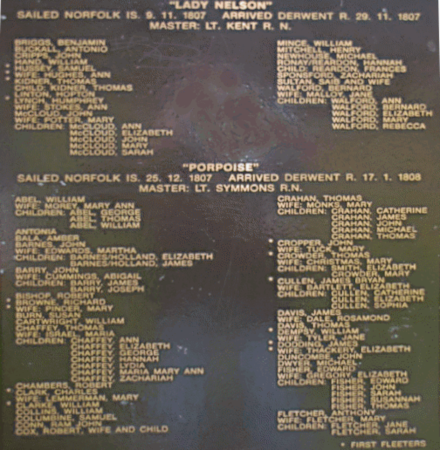 Norfolk Island memorial plaque, St. David's Park, Hobart.
James Cullen was buried in these grounds when they were part of St. David's Churchyard.
Rod Martin