World War I - 1914 to 1918
St Keverne Parish
Our Men who Served
This is a book written and compiled by Karen Richards and Terry Moyle on behalf of the St. Keverne Local History Society.
This book is the culmination of many years of research into the names on the Roll of Honour, the War Memorials at St. Keverne and Coverack, those who served and survived (over a hundred men), those from the parish who had emigrated but who served with the American and Canadian Forces and a War Diary of Noel Eddy who later emigrated to Australia.
There is biographical information on every man who served both the Fallen and the Survivors (arranged alphabetically). Other chapters include Memories of the Great War as life continued in the villages, Early Remembrance Days, Peace Day Celebrations, Extracts from local newspapers covering the War years, the Parish War Memorials and an overview of St. Keverne Parish in 1914.
There are over 350 photographs both black/white and in colour, World War 1 postcards sent home from the Front, a reference section to the ships on which St.Keverne men served, outline information on the role played by the DCLI relevant to St Keverne men and details of a supper in 1953 arranged for all First Word War veterans.
The details of all the Men who Served include date and place of birth, parents names and those of siblings, residence in the 1901 and 1911 Census returns and, where applicable, the 1939 Register.
Information from War Service records that exist is included for both the Fallen and the Survivors and for the American and Canadian forces and, for the Survivors, a brief summary of their life after the end of the Great War.
If anyone has roots in St.Keverne Parish (St.Keverne, Coverack, Porthoustock, Porthallow, Tregarne, Rosenithon and Traboe and the outlying farms ) then it is very likely that they had family members who served.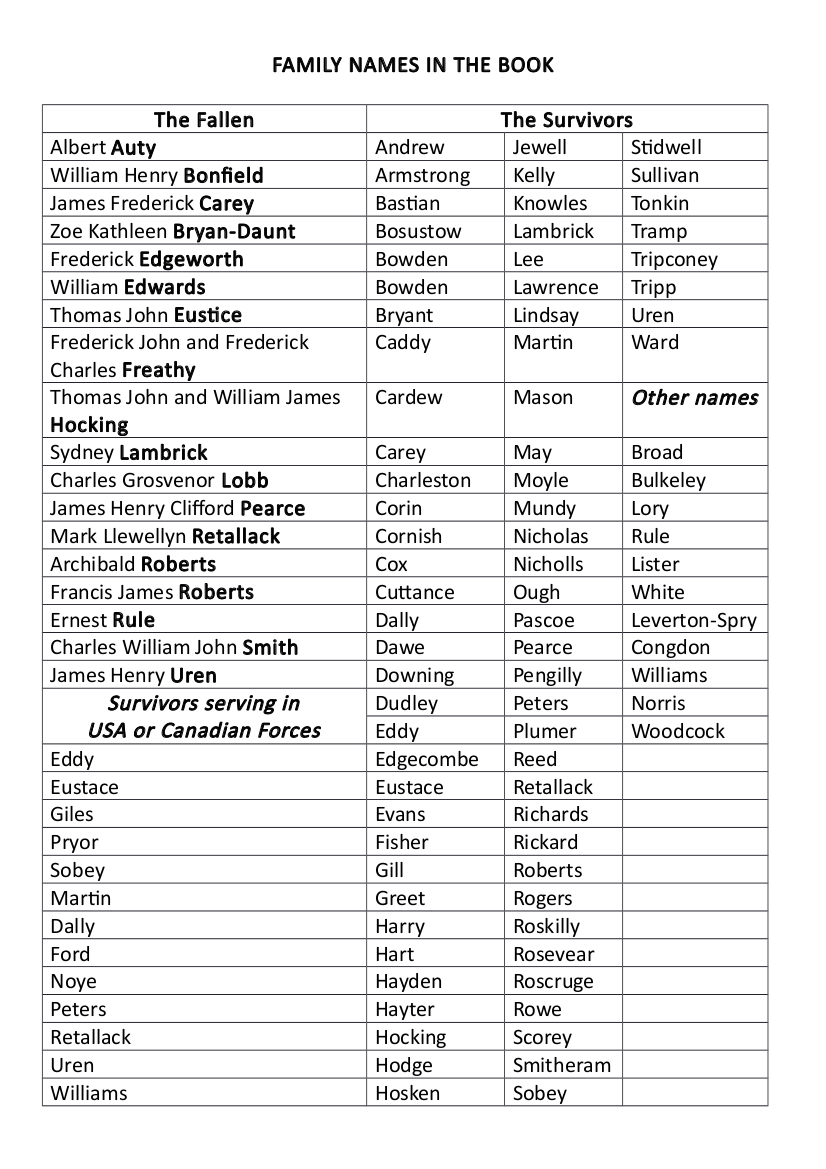 The book has 216 pages with 34 pages in colour. It is printed on good quality paper with a silk finish and has a card cover.
The cost of the publication is
£12.00
with package/postage extra as below.
UK 1st class £4.00 2nd class £3.50
Canada and USA £14.00 (Air Mail)
Europe £9.00 (Air Mail)
Australia and New Zealand £15.00 (Air Mail)

Also available in St Keverne village from the Three Tuns and the Newsagent
Payment can be made by cheque payable to St.Keverne Local Historical Society, by Paypal or by bank transfer.
All money from the sale of the book will go to the St. Keverne Local History Society's funds.
For further information regarding or purchasing this publication please contact Karen Richards, the Secretary of the St Keverne Local History Society, or Terry Moyle.