The Parish Chest
Home Page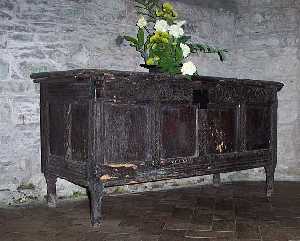 For centuries the precious documents of the parish were stored in a locked chest in the church for their safe keeping.
The St-Keverne Local History Society is hoping to place on this web site as many of the numerous documents, photographs, illustrations and recordings relating to the history of the parish of St-Keverne on the Lizard Peninsula Cornwall, as it possibly can.
We hope to cater for everyone interested in the parish history and the site will be useful to those tracing their family history as well as those with a more general interest.
The majority of the statutory documents such as baptism, marriage and burial listings have been in the care of the Cornwall County Record Office since the early 1960's as have many other records of interest to family historians such as census returns, protestation returns and hearth tax listings. But we feel that all of these are of such fundamental interest that we must include them.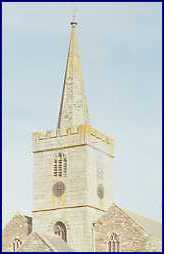 We hold the archive produced by
Canon Diggens
who was vicar in St Keverne at the end of the 19th century. He researched into every aspect of our history available to him at the time in both national and local archives.
One example, from the State records, of information sent in 1640 to
King Charles
1st from Algiers stating that "here are about 5,000 of your subjects in miserable captivity...."
Over the centuries we have a number of records of fishermen being snatched from their boats of the coast of the parish by "Algerines" and "Flemings" and many of the 5,000 unfortunates mentioned above would have been Cornish and from this parish.
He also consulted "the oldest inhabitants" and wrote down their memories on subjects as varied as how the post office were persuaded to deliver mail to the parish to where buildings have been demolished.
The archive can be viewed by clicking on the
Canon Diggens
links.
St Keverne Local History Society Podcasts
The Shipwreck of The SS Mohegan on the Manacles in 1898 and the terrible loss of life of 106 passengers and crew, is told in tapes
recordings
made in October 1966.
You can read about the making of the Mohegan Tapes by clicking
here.
The tapes record interviews with three St. Keverne people who had either witnessed the tragedy or who had heard first hand accounts of it within their families.
You may download the St Keverne Parish records, family genealogies, and the Mohegan tapes, and other recordings from the
downloads
page, to view or listen to at your leisure.
How you can help
If you have origins in the parish we would like to hear from you.
The parish has a history that can be traced back for thousands of years and it has been studied by numerous historians, both amateur and professional, for several centuries. Ideas change and opinions vary so if you are researching a particular subject we suggest that you consult as many sources as you can and make your own mind.
St Keverne Parish - Genealogy contacts
The On-line Parish Clerk (OPC)
scheme operates a look-up service to help family historians. There are two OPCs for St Keverne:
Diane Donohue
and
Terry Moyle
, enquiries are welcomed by both.
More information about the On Line Parish Clerks for St. Keverne can be found here:-
OPCs for St Keverne
You can email OPC Diane Donohue from
here
and OPC Terry Moyle from
here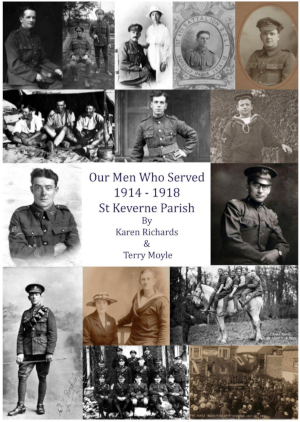 'Our Men who Served'
A new World War One book by Karen Richards and Terry Moyle
216 pages (34 in colour), 350+ photos, postcards and chapters on The Fallen, The Survivors, Memories of the Great War, Peace Day Celebrations, Early Armistice Days, Extracts from Local Newspapers 1914-1919, Noel Eddy's Diary, St. Keverne Men serving in the USA and Canadian Forces and an overview of the Parish in 1914.
click here
About this Site
This website is paid for by subscriptions and donations from members of the St. Keverne Local History Society.
All transcriptions, other content and works on this site, have been carried out and provided by unpaid volunteers.
If you found our site useful and would like to support our work by making a donation, please click the donate button Thank You.
For more information contact:-